Sexy porn star jocks dante martin, damian black, and paul canon team up for this smoking-hot bareback threesome!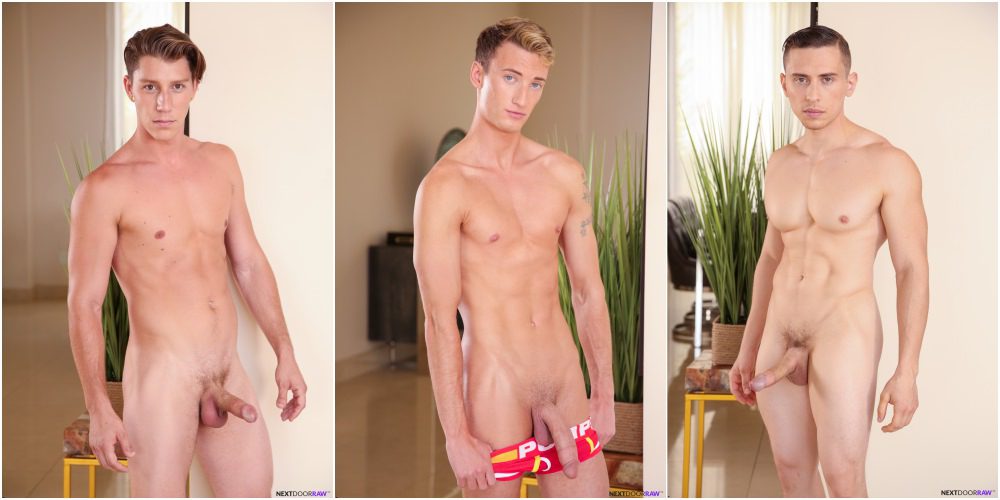 They team up for the latest Next Door raw scene titled "Forgiving Cheaters" in which Paul Canon decides to hook up with Damian Black while his boyfriend Dante Martin is out at work. Damian arrives at Paul's place and they get right to it, sucking one another's raging boners before Paul then slides his ass down onto Damian's raw cock and rides the sexy jock balls deep. But just as Damian is about to blow his load inside Paul, Dante then arrives back home!
Unbeknown to Paul, his boyfriend had doubled back to catch him cheating. But instead of getting mad, Dante tells the guys to carry on and sits down next to them on the couch. He then whips out his throbbing cock and jerks off as his cheating bf continues to ride Damian's big raw cock, but it's not long before he then joins in the action too. Dante takes his turn on Paul's ass next, fucking him while Damian also fucks Dante's ass, making it a smoking-hot bareback fuck train! It's so hot watching those big bare dicks pumping in and out of those tight holes.
There's some great spit-roast action too for Paul and Dante as they get fucked while sucking dick at the same time, and it all ends with Dante eating Paul's cum before getting drenched in his own jizz and Damian's hot load. Something tells me these boyfriends will be inviting Damian around more often!