Danny Montero is a cute, clean-cut lad and he's playing with scruffy bad boy Matt Brooks in this new scene from Hard Brit Lads. They're bare chested and wearing nothing but there sports shorts, kissing and groping their rock-hard erections through the slippery fabric. Take a close look at Brooks, he's very horny and you can see a wet spot of precum smeared across his belly even before he slips off his shorts.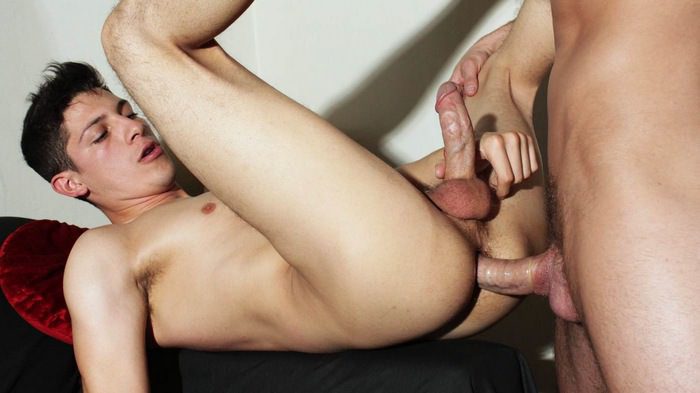 Danny gets down on his knees first, trying his best to swallow Brooks big, banana-curved dick, but this boy needs a lesson in how to deep throat a guy's cock. Brooks kneels and shows Danny how it's done, gulping the boy's meat balls deep. And Brooks own dick is stiff and curving towards the ceiling and just the tip of his glistening cock head peeks through his foreskin.
Danny lies on his side and hoists a leg in the air and Brooks stuffs his curved boner into the lad's hole, plunging it in and out with deep thrusts and burying the whole thing inside Danny's juicy hole. The boy's ass is much better at taking dick than his mouth. Danny lies back on the arm of the sofa and gets pummelled, then bending over the couch, he drops his cum load on the floor while Brooks drills him hard. Then Brooks says, "I'm gonna cum," and spews his considerable load of spunk across Danny's ass cheek and we watch his jizz sliding down the boy's leg and the two guys pant and recover.