Jack Windsor is a cute blond guy who has only recently started playing with guys. He's a fit boxer who stands well over 6-feet tall. He's an adorable lad and started off with his first jack-off video at English Lads a year ago. Four months later he agreed to getting his 8-inch cock wanked off by another guy. After another couple of months, the guy who gave Jack his first hand-job also gave the blond his first blowjob, then the two are paired up again so Jack can return the favor and suck his first dick.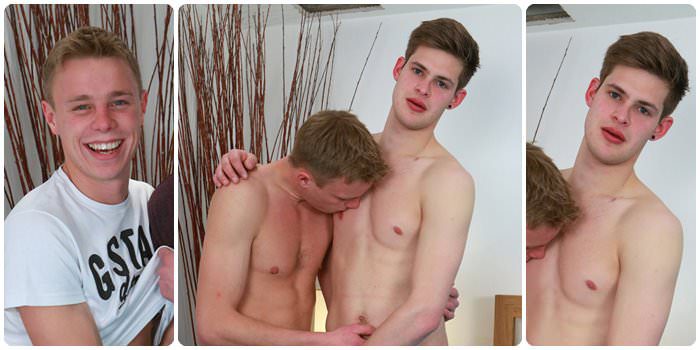 By September, Jack is sticking his big cock in another guy's ass and a month later he comes full circle helping another newcomer experiencing his first blowjob from a guy. A full year and eight videos later, Jack is back with Chris Little, who has made close to twenty videos himself, for a horny flip flop fuck. They're both fairly well versed in guy-on-guy action and seem to be competing for the "best cocksucker" award.
Jack takes the lead and shoves his hard-on up his buddy's ass, but then Jack takes over and gives his blond fuck buddy all eight of his uncut inches. But Chris has never been one to lie there and get done, so he hops on top of Jack and rides the lad's huge bone, gasping for air with each deep thrust. Jack shoots a huge load all over himself and Jack and the blond dumps his spunk all over his cum-soaked and exhausted buddy. And if you like blond Jack, he's already jumped into his next video and giving another nervous straight dude his first hand-job. If you've never seen Jack before, you've got a lot of catching up to do.