I do love it when redhead stud Connor Maguire shows up on Helix Studios to fuck one of the cute boys there. He's a good-looking hunk and I love redheads – there aren't enough of them in gay porn – so I'm always turned on seeing him plunge his big, long cock in a bottom's hungry hole.
Ryker Madison arrives homes after a long, hard day at work and his lover, Connor Maguire, is relaxing on the couch. Ryker's been looking forward to spending the evening with his boyfriend, but his plans are interrupted when Connor's friend Dillon texts and invites him to a movie. Ryker gets a bit pissy saying, "No, it's fine, I don't mind." But the tone in his voice tells a completely different story.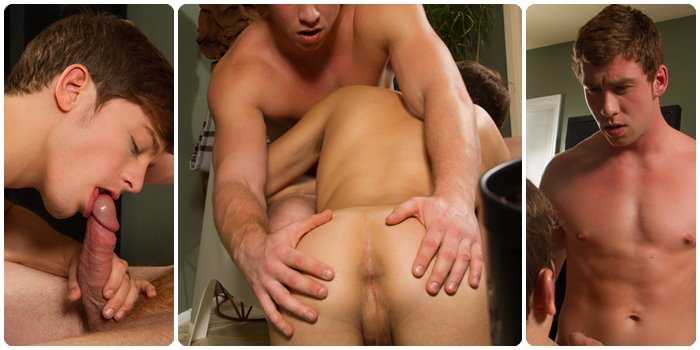 Connor leaves, but returns a couple of minutes later, feeling like a shit for dumping his boyfriend on the couch. He makes it up to Ryker with a passionate love making session in the living room. The blond cocksucker gives Conner a deep gulping blowjob trying to make up for being a spoiled brat. Conner reaches across Ryker's back and fingers his butt hole while the lad is deep throating his big dick. The redhead stud sits back in the chair and Ryker climbs on top and grinds his hole on his boyfriend's big dick. But the highlight of this fuck session happens when Connor picks his tiny lover up in his arms and stands, bouncing his boy deeply on his huge erection. Make up sex is always the hottest.