Until now Jacques LaVere has only done condom porn, so this scene with Alex Levine from College Dudes is his first bareback fucking scene. When the video opens Jacques and Alex are kissing on the bed in their underwear. You can clearly see Jacques monster dick tenting in his shorts – sure doesn't take much to get this guy's dick hard.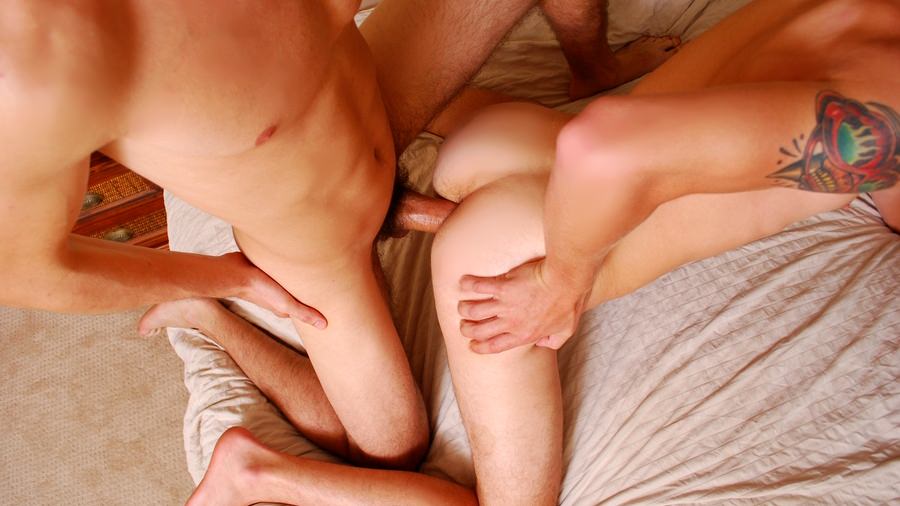 The underwear comes off and Alex leans in to swallow Jacques huge cock. It's a full nine inches long and it proves to be too much for Levine's mouth. To be honest with you, I don't even think that Alex tries very hard, he just bobs up and down on the head. I wanted to reach through my monitor and slap him, "Suck the fucking thing!" (You know, boys, if you want to learn how to give really good head, blowjobs that keeps them coming back, you can practice on a dildo at home, or find a patient fuck buddy to help you. When a guy's got a 9-inch cock, he wants to feel your lips all up and down his rod, not just on the top two inches. Practice, practice, practice.)
But Alex redeems himself. Like a lot of bottoms, Alex's ass is much better at handling Jacques niner and this stud shoves his raw cock in and out balls deep. While Alex is enjoying it and moaning, he's not having a hard time taking Jacques monster cock – his ass is very accommodating. Alex starts off on his side and after Jacques drills him for a few minutes, Jacques mounts Alex doggy style. Jacques is pumping much harder and deeper now. On his back, Alex gets his hole pounded with steady "I'm aiming to cum" strokes, and with Jacques screwing him, Alex unloads all over his smooth belly. A couple more minutes and this hung top is ready to spunk and he lets his swollen bone explode all over Levine's cum-soaked belly.