Sam Truitt and his big dick showed up on College Dudes in the middle of August for a jack-off video and he's back for a head swapping session with Trent Ferris, who has become hugely popular in the handful of videos he's filmed with College Dudes. I don't know how big Sam's dick is, it's hard to say really because he's a skinny guy, which often creates an optical illusion. I usually hesitate to use words like huge, humongous, or ginormous unless I see the stats to back it up. No sooner do I call a guy's cock huge than someone pops up saying, "Oh that's not a huge dick, I had one way bigger than that for breakfast."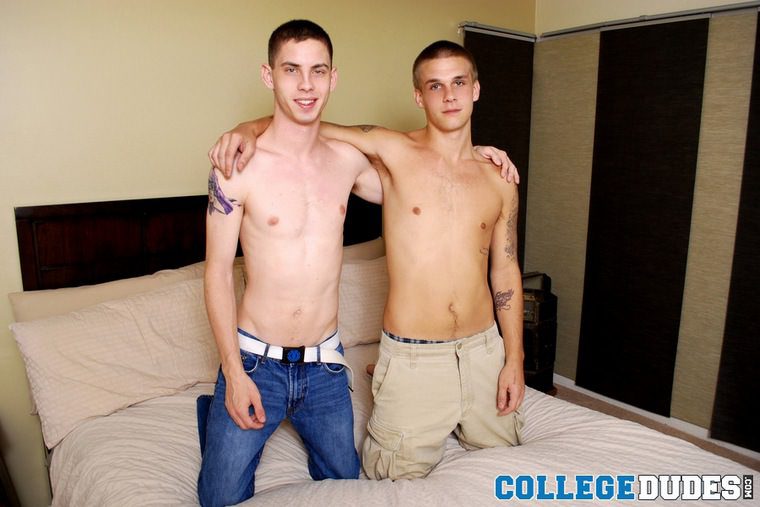 But there's no getting around that Trent struggles to swallow Sam's cock. The guys start off on the bed kissing passionately and Trent's hand eventually finds its way down between Sam's leg and he wraps it fist around Sam's meat. As the camera moves in for a close-up, I literally said out loud, "Holy shit." Sam's dick really fills up his buddy's hand and I'm looking forward to seeing what Trent does with this thing. And whether this college stud's cock is massive, monstrous, or enormous, I know many of you would love to spend a couple of hours trying to stuff as much of it as you could down your throat.
Trent Ferris is a cute blond guy with a fairly decent-sized dick himself. And he's only 18, so he hasn't been sucking dick for long – or shouldn't have been anyway. He's made six videos with College Dudes, but Sam is the best-hung guy that Trent has played with. And no matter how wide Trent tries unhinging his jaw, he still has trouble deep throating Sam's huge cock. (Yeah, I said it, I think it's huge.) Trent lies on his side and swallows Sam's dick and Sam has his hand on Trent's head trying to coax him deeper. Then Sam hops up on his knees and Trent goes at it from a different angle. After giving Trent some head, the hung boy is lying back on the bed again wanting some more serving and Sam gives it to him until they both blow their cum wads together.