I thoroughly enjoyed Alex Jordan's first fuck scene with Kyle Harvey, which I blogged about here last week at Dylan's Daily Dose. But to say that was the first time Alex ever had a cock up his ass would be a lie. Alex is such a cock hound and watching him slobber all over a guy's dick is such a turn-on, and you can tell that he's been playing with guys for a long while.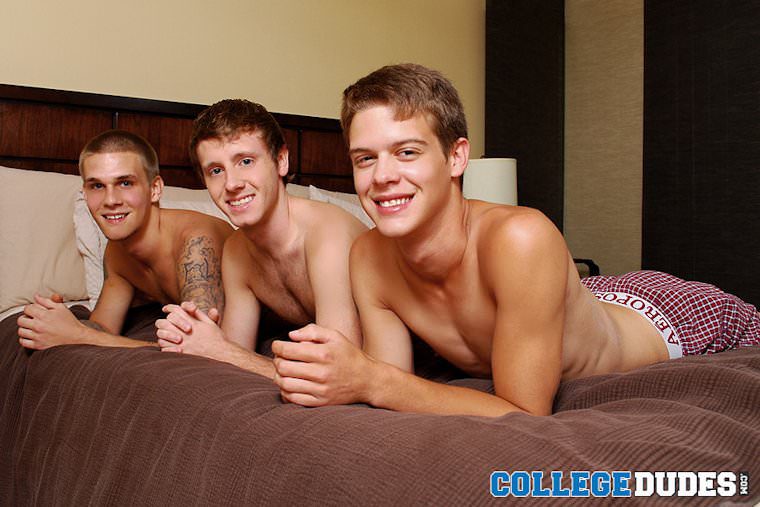 Trent Ferris, Kyle Harley, and Alex Jordan get cozy on the bed in this new video from College Dudes. They start off kissing and tugging and each other's stiffening dicks. Then they get down to some hot and wet oral with both guys blowing Trent at the same time. And Trent loves watching these two cocksuckers battling it out for his hard-on. Who wouldn't?
But when it comes to who is getting fucked, there's no fight about it. Alex Jordan hops on Trent's boner and slides his buddy's raw dick inside him while the top keeps Kyle's hard-on busy with his mouth. When Kyle moves around behind Alex I get excited because I think we're going to get some double penetration going. But I guess Alex isn't the cock pig I thought he was because he pulls off Trent's dick so Kyle can enter him.
After some hot screwing, Alex is on his back and Trent is taking another crack at his bare hole. I'm not surprised, Alex has already been fucked by Kyle and a new cock is always hotter than an old one. While drilling Alex's ass, Trent continues sucking Kyle until his fellow top needs to cum and he unloads in Trent's wide open mouth. And this wraps up this sweaty threeway fuck with Trent and Alex cumming all over this well-fucked bottom's smooth belly.