Colby London is a very good-looking guy with a lot of tattoos. He tells Video Boys that he's had a lot of sex with girls, but recently he's been playing more and more with guys. A couple of weeks ago I did a post where he fucked Beni Rousseau's ass, and Colby gets this bottom moaning and groaning pretty good.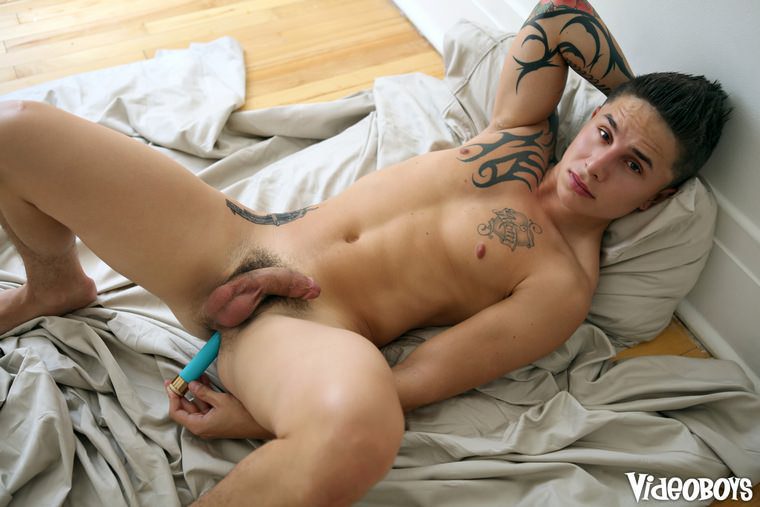 So far Colby has only fucked guys, he's never bottomed. He's been kind of curious how it feels because he sees how much his bottoms have enjoyed getting fucked. When he fantasizes while watching gay porn he says that he imagines himself as both a top and bottom. "I think I'm going to start playing with my ass more and see how it feels," London says, adding, "And from there, maybe start bottoming.
So Video Boys hands Colby a blue vibrator and he starts rubbing it around is furry butt hole. And he manages to bury that thing deep inside his ass. Okay, it's not a huge sex toy, it's one of those starter dildos – skinny and maybe about five inches long – but still, for a guy who has never had anything up his ass, it's probably more than enough. Colby says that if a guy's going to top him that he's going to have to be very aggressive and take total control. So, if I know Video Boys, they've got someone in mind and we've got a very horny scene to look forward to in the weeks ahead. In the meantime, you'll enjoy watching Colby playing with his vibrator and covering his smooth belly with spunk.