Aaron Stang is a cute, 21-year-old guy from Colorado. And he's doing his first scene for Boy Crush. He starts off with a bit of an interview, sitting cross legged on the couch in shorts and a t-shirt. He likes doing anything outdoors and loves camping. When Aaron was 17 years old he wanting to try something with a guy, so he jumped an 18-year-old friend, and holding up a glass dildo says, "And he was bigger than this." Aaron has also explored car sex and had a romp in the front seat of his Jeep Cherokee in a high-school parking lot.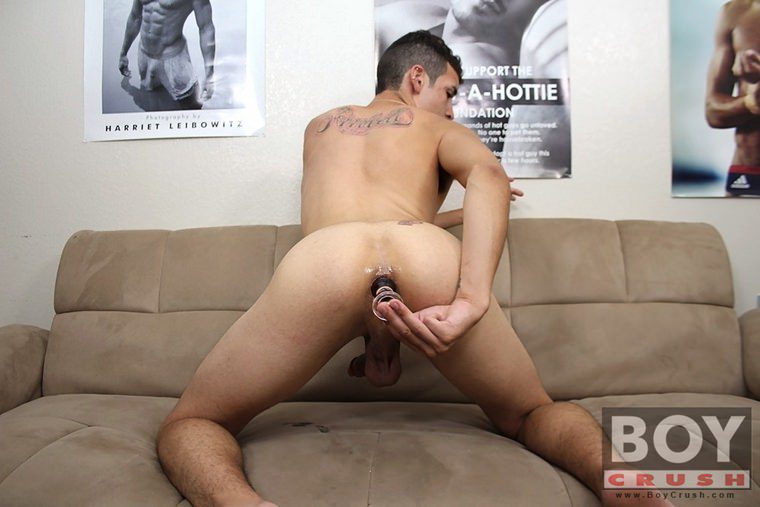 But Aaron isn't here just to talk, so he strips out of his clothes. He's got a beautifully lean and smooth body. And holy shit! He's packing a big, long and thick cock; he's got a healthy pair of smooth nuts, too. He strokes his dick, which is rock hard as soon as he pulls off his shorts. Then he lubes up that glass dildo, lies back on the couch, and slides it inside his smooth butt hole.
It takes a bit of doing, but eventually his ass opens up and Aaron is plunging the sex toy in and out of his ass and jacking his dick. He gets down on all fours and rears the camera so we can really see him fucking his horny asshole. I'm more fascinating with those big nuts of his hanging between his legs. He lies back on the couch, hoists his legs in the air and works his ass with the dildo for his cum shot finale. He's pumping his cock really hard now and we finally see why he has such big balls – he unloads a massive load of cum all over his smooth belly and chest.