Can a guy's pubes ever been too bushy? I think so. I'm not a fan of shaved or overly sculpted pubic hair, but if ever there was a poster boy for a little manscaping, it'd be English Lads Charlie Jackson. In this series of photos he teases us by hiding his cock behind his hands or giving us a bit of peek as he's pulling down his boxers, but either way, it's not hard to see that Charlie is very bushy down there. But maybe you like that.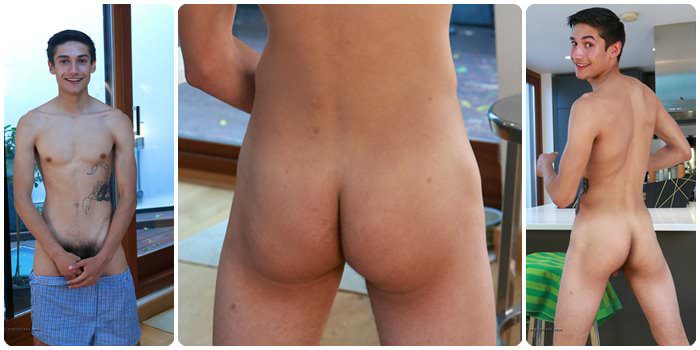 Charlie is a cute and geeky-looking footballer and he's just filmed his first jack-off video for English Lads. He's got a perfectly lean and smooth body, he wears some ink, and he's sporting a 9-inch uncut cock – his dick has to be big to stand out of his dark bush.
He was a little shy during his first photo shoot and didn't want to spread his legs, but in this jack-off video he does give us a peek at his tight rosebud. He says that he's straight, but he does seem to know how to tease. After lots of wanking and a little hole show, Charlie sits back and pumps a nice load of cum all over his ripped abs. Will Charlie be back for a handjob or his first blowjob from a guy? Stay tuned, I'll let you know.