Helix Studios regularly does videos where one of their guys will talk about their first-time having sex and then they re-enact it for the cameras. Casey Tanner and Evan Parker are a couple of mid-western boys who got to know each other in high school. But not only that, they became boyfriends, came out to their families, and they were even crowned kings at their senior prom!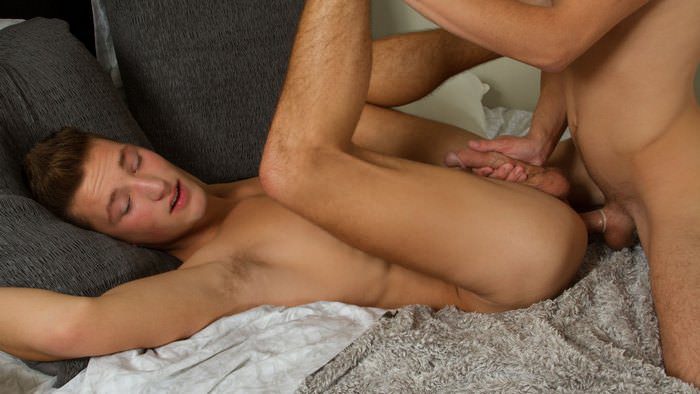 Casey and Evan tells us that for a long while their sex sessions consisted of them blowing each other. That's all they did after school was strip naked, climb into bed, suck each other off, and blow their loads.
But during one of their horny head sessions, Evan started playing with Casey's butt hole and asked, "Are you ready?" And Casey was, but all they had for lube was some strawberry / kiwi flavoured gel that Casey says he stole from Walmart. And Evan Parker has the perfect cock for a guy's first ass fucking, it's not massively huge, but big enough for a guy to know he's got a dick in his butt. And Casey really loved feeling his boyfriend pumping his hole. It's a tender, horny, and at times, a hard-fucking first time, but I really enjoyed watching these two boys exploring something new together.