Jack Windsor is a geeky, blond guy who started filming with English Lads back in February. He's a boxer and hadn't had any experience playing with guys, but that all changed after his first jack-off video. A couple of months after that he got his first blowjob, then came back to suck another guy's cock, and eventually returned to fuck a guy's ass. And he seems to enjoy gay sex quite a lot because he hasn't stopped coming back.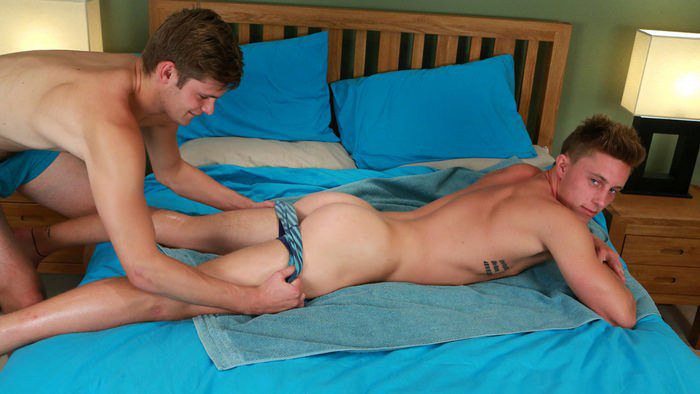 Cameron is another cute British guy with a tight, athletic body and a cute butt. And Jack is helping him out with his first real guy-on-guy action. Cameron did his first jerk-off session back in July, and while his second video was supposed to be a massage-only affair, he did submit his butt hole for a little play with a small vibrator. But today Cameron's getting his dick sucked for the first time by a guy, and Jack is doing the honours.
But Cameron even goes a little further. With Jack lying naked on his stomach, Cameron climbs on top and gives his blond blow buddy a massage. Cameron even helps himself and reaches between Jack's legs to play with his cock a bit. But ultimately, this first timer is there to get a blowjob, so he lies back and lets Jack show him that guys really do give better head. Seems like every time Cameron is scheduled to do something new on video, he ramps it up a bit and gives us something extra. I wonder just how far this cutie is going to go in his next video.