After a spooky Halloween themed evening out on the town, Calvin and Travis end up home in the bedroom together passionately kissing. Calvin pulls down Travis' jeans and underwear as he kisses him, revealing his tight hole which he proceeds to slowly open up with his fingers. He then gets to work sucking Travis' big hard cock before freeing his own huge boner which Travis doesn't hesitate to go down on. The boys get into a 69 position so Calvin can suck on Travis' dick as he's getting blown at the same time.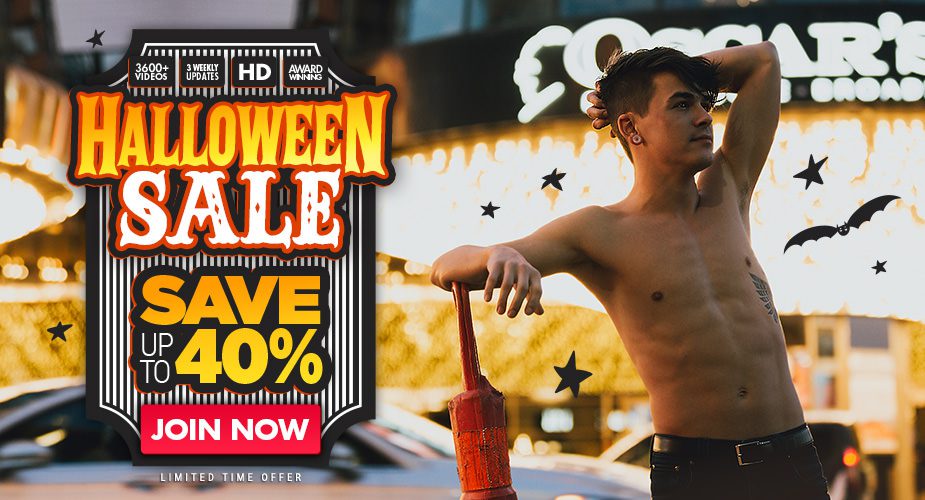 Calvin then sets about rimming Travis' ass before sliding his big bare cock deep inside. That lengthy shaft fills Travis up as Calvin slams it into him hard and fast. That big dick massaging his prostate soon makes Travis cum hands free. It's not a big load, but that's to come later! Travis hist on Calvin's dick and rides him, and that really hits the spot as he jerks off and fires off a huge load all over Calvin's pecs. A moment later Calvin pulls out and creampies Travis as he blows all over the boy's butt.
Dick Detective's verdict: Excellent! The hands-free cum shot, the huge load from Travis, and the creampie from Calvin were all smoking-hot.