Brandon Beale and Kyle Johnson start out with some kissing as they start stripping out of their clothes in this new Broke Straight Boys video. By the time they get down to their boxers, their dicks are tenting. Kyle kneels and slides Brandon's underwear down his legs and starts guzzling cock, and this boy can suck dick. Brandon puts his hand on the back of Kyle's head and gently thrusts into this cocksucker's mouth, and if you like noisy head sessions, you'll love listing to Kyle slurping and gulping.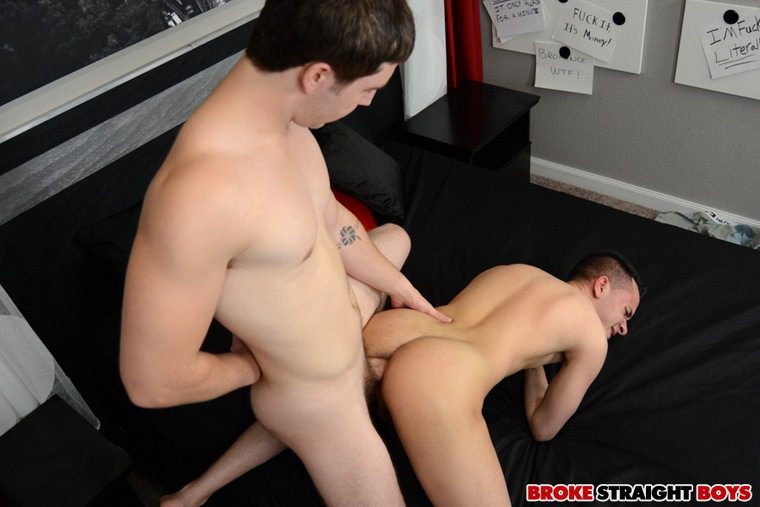 Brandon gives Kyle some oral, too, but quite frankly, he's not very good at it. He's a "just the tip" kind of guy, bobbing up and down on the top half of Kyle's dick. I guess Kyle wasn't enjoying it much either, so he bends Brandon over the chair and fucks his ass hard. Lots of dirty talk and hard thrusting with Kyle's hips slapping into Brandon's butt; Kyle even smacks Brandon's cheeks a few time. Kyle's a good fucker and we get some slippery underneath shots of his bone plunging in and out of Brandon's furry hole.
Sometimes Broke Straight Boys stretches the truth a little bit about these "straight" guys, like when they say about Kyle: "When it's his turn, Kyle whimpers like a good bottom boy." When Brandon shoves his hard-on inside Kyle's ass, he ain't whimpering. First of all, there's no warm-up, Brandon slides right in and he's able to start deep thrusting right away, Second of all, when a guy is saying, "Oh yeah, fuck that hole … give it to me," and he's doing it with a smile on his face – he's loving it. Kyle lies back and fists his cock while Brandon drills his ass, and he shoots a big load of cum all over himself. Yeah, he hated every minute of that fuck. Brandon's close now, too, and he spunks all over Kyle's raw and well-fucked hole.