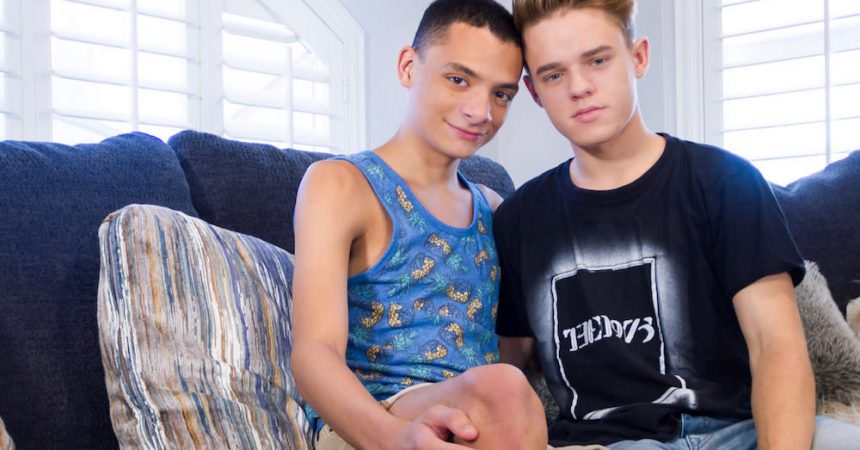 Brian & Milo Raw Flip-Flop
Brian has fallen asleep on the couch next to Milo, but Milo is feeling horny. Feeling daring, Milo decides to whip out his big boner and jerk off while looking at porn on his phone. But as he does, Brian wakes up and sees that big dick before him. "Should I stop?" ask Milo to which Brian says no as he moves closer. After some passionate kissing, Brian takes over and tugs on Milo's thick cock before using his lips to suck on it. He blows that big boner for a good while before Milo frees Brian's dick and blows him in return. Milo then bends Brian over and eats out his hairless hole.
Brian turns around onto his back and Milo licks the boy's smooth hole again before sliding his big raw cock into it. He pokes just the bright pink head in at first, then surely but slowly squeezes the rest of his inches deep inside. Milo pumps away and slowly drills Brian's hole, then we see Brian sit on that dick and ride it hard and fast. After an energetic bouncing up and down that big bare boner, Brian is then ready to top. Milo lays on his back and Brian slides his raw cock into the boy's butt-hole. He pumps away and soon makes Milo blow his load all over himself. Brian then pulls out and creams over Milo too before the twinks share a final kiss.
Dick Detective's verdict: A very hot flip-flop, and I particularly enjoyed watching Milo slowly squeeze his big cock into Brian's hole for the first time. Brian riding Milo's dick was also very hot to watch too.