I always really liked Bryan Cavallo from College Dudes. He's a handsome, tall stud from the northeast United States and he's got a big uncut cock. He's done a lot of videos for College Dudes and has shoved his meaty hard-on up many a college butt, taken a few himself, too.
Brad is the lucky redhead in this new scene who gets to feel Bryan's beefy cock sliding into his hole, and they're fucking skin on skin, so he really gets to enjoy how good this handsome guy's dick feels. They strip each other while kissing, then they start manhandling their dicks and stiffening them up with some mutual stroking. Bryan kisses his way down Brad's smooth body until his lips find their way to Brad's ginger bush and dick. Brad's uncut as well, and while his hard-on isn't as long as Bryan's, it's still big and thick like a stump and fills up Bryan's mouth pretty good.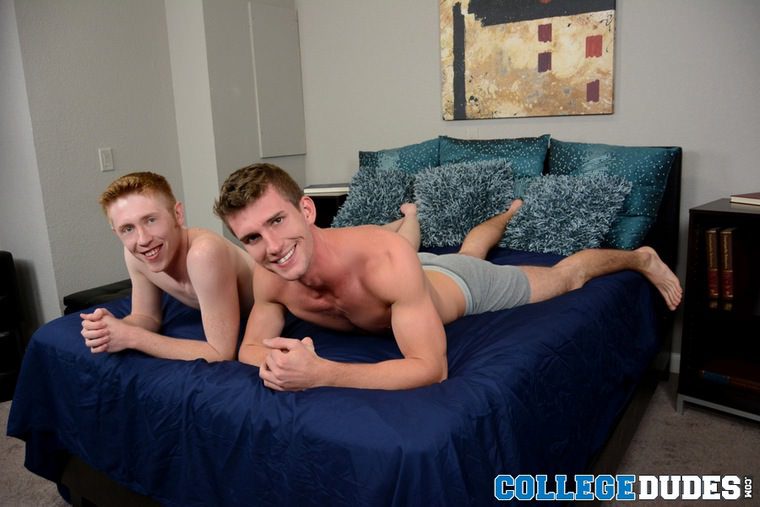 And it turns out that Brad is a very good cocksucker. After teasing and sucking Bryan's pole, he buries it in his mouth – the boy can deep throat – and shoves his face in Cavallo's trimmed pubes. But I absolutely loved seeing Brad down on all fours with his beefy, white ass in the air (redheads can't tan worth a damn). Bryan slides in behind on his knees and starts inching his big meat stick into the boy's ass. Bryan pumps slowly at first, opening Brad's ass, then he drills him with hard, deep, and fast thrusts. Bryan's stamina isn't as strong as his bottom's and he eventually pulls out and covers the redhead's chest with spunk. After some kissing, Brad's ready to let it fly and empties his balls all over his belly.