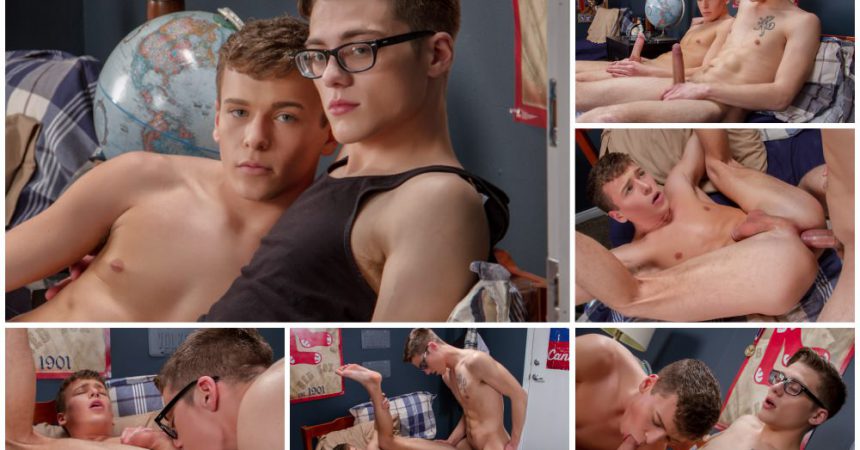 Brad Chase Takes Blake Mitchell's Big Dick
Brad Chase takes Blake Mitchell's big dick deep inside his tight ass for this new hole-stretching duo scene!
This isn't the first time we've seen Brad take Blake's big dick of course, as they've filmed a few scenes together now for Helix Studios. Those have all been threesome and foursome scenes though, so this is the first actual duo we've seen from the horny porn stars. In this scene the pair are sharing a bedroom but in separate twin beds, although after they've both got their throbbing dicks out to jerk off they're soon joining each other on the same bed for some mutual handjob action. Dick stroking quickly turns to cock sucking, and Brad has a great time sucking and slurping on Blake's massive boner. But let's face it, who wouldn't?
Brad then gets his legs spread wide open above his head so his twitching twinky hole is easily accessible to Blake's tongue. The top twink rims and eats out that ass good before ramming his big dick inside it, forcing and squeezing every inch of that long shaft deep into Brad's tight pucker. He then pumps away, fucking the bottom boy in long and fast strokes, filling him full of that huge length. Not that Brad is complaining, he loves every second of getting rammed hard by Blake – as he has done many a time before.
Even though it's familiar ground for these boys since they've fucked a few times before, it still feels fresh since we get to see them in a more intimate duo pairing. And let's be honest, you can't tire of watching Blake's big dick fucking Brad's tight ass over and over!