Last week I brought you a hot scene with Robbie Anthony getting his tight little ass fucked by handsome stud Jasper Robinson. This week in a tit for tat video from Boy Crush, Robbie is giving Jasper some ass fucking payback.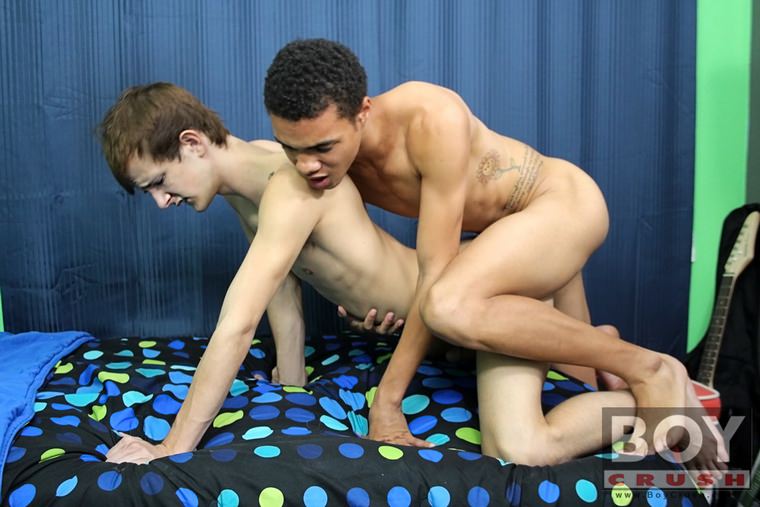 Jasper is giving us some tips about picking up guys online. He's got some time to kill before his dad picks him up. "Don't waste time with small talk," Jasper tells us. He texts Robbie to see if he has time to come over. No "Hey, how are you?" He gets right to the point: "Do you have time to come over?" Robbie is there in a hot minute and still wearing his uniform from the hot dog stand and he's sporting a big stuffed wiener hat on his head. It's quite funny. The boys get right down to necking. The clothes start coming off and when Jasper is complete naked, Robbie sucks his meaty cock, but he's still wearing that damned hot dog hat. But it finally comes off when Jasper starts blowing Robbie.
Robbie rubs Jasper's ass crack. "Do you want me to hit this?" Jasper gets on all fours and Robbie starts plugging his hole. With his ass in the air, Jasper is gripping his pillow while his buddy drills his ass hard and they're both moaning pretty good. Robbie really gets the bed banging loudly against the wall. I sure hope no one is home because they're going to hear these horny boys fucking. Jasper climbs on top of Robbie and rocks deeply on his dick, then he leans back while Robbie bucks up into his ass. These horny boys sure are enjoying this after-school fuck, and they both show that when it comes to topping and bottoming, they do both equally well.