I was a Boy Scout, and even went away on some weekend camping trips, but nothing like this every happened to me. I wish it had. In this new video from Staxus, four uniformed scouts are sitting around a campfire, roasting weenies, and singing songs. But redhead Darryl Declan and dark-haired Will Sims have different things in mind. After the others have gone off to bed, these two horny boys head off to one of their rooms in the cabin for some fun.
These guys are about as opposite as they come. Darryl is a ginger lad with pale skin and a very long 9-inch cock; Will is dark-haired with a brown complexion and his dick is shorter, but fat. But they're both incredibly horny. Seeing these two sitting side by side on the bed and stroking their cocks is like watching one of those 3-D movies – Darryl's hard-on is enormous and dwarfs Will's, easily twice as big as his friend's.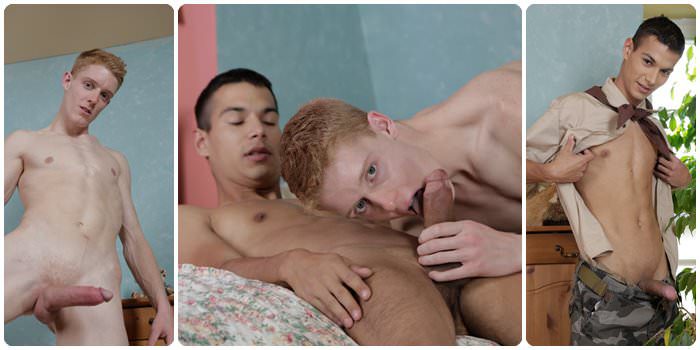 Will has a hard time swallowing very much of his redhead buddy's cock and I wonder how the hell he's going to get that thing in his tiny little ass. He sits on it and bounces, slowly opening up his hole, and Darryl's huge pink cock slides deeper with every thrust. Will's own cock, which is now rock hard, super thick, and looking a whole lot more impression, is dancing and swirling around wildly in the air while he rides Darryl's bone. Will ends up on his stomach and he's seeing stars as Darryl drives his massive cock deep inside his ass. Then these boy scouts lie back side by side and and Darryl splashes his thick load of spunk into Will's mouth. But Will's cumshot is the scene stealer. A massive load of jizz oozes out of his cock and slides down his shaft – it's a massive mess.