An exhausted Orlando White stumbles through the orchard exhausted, he's been working in the fields. He picks an apple from the tree trying to quench his thirst. He day dreams of a happier time he had in that orchard with cute, blond, Brit Blake Hanson. As this Staxus day dream continues, Orlando is leaning against that same tree with a bare-chested Blake kissing him. Orlando fondles Blake's thickening uncut dick, then slides the boy's pants down his legs and swallows his cock.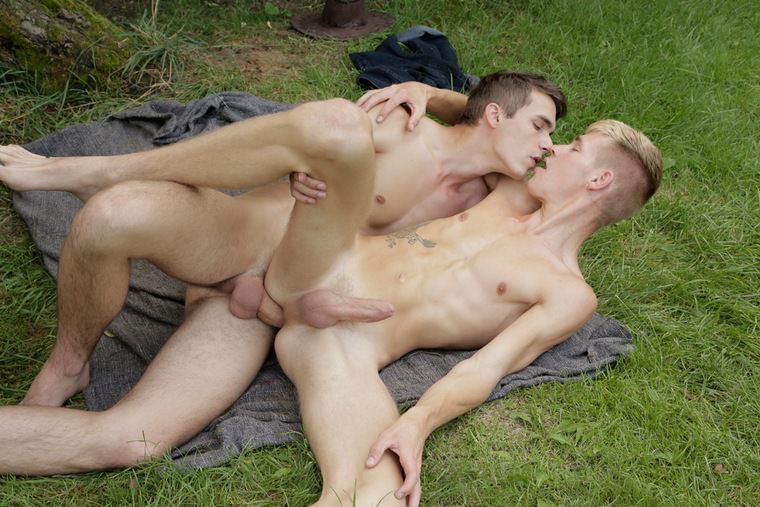 With his hand down his own jeans, Orlando continues nursing on Blake's fat dick, then the blond pulls the Hungarian's pants down and gets his mouth around his stiff tool. Blake peels back Orlando's foreskin, revealing an olive-shaped cock head and swirls his tongue around it. Blake leans against the tree and Orlando slides his tongue between Blake's taut butt cheeks. Then the boys lie down on a blanket and Orlando slips his erection into the Brit's bare hole and pumps vigorously.
Orlando lies back and Blake mounts him and sits on his hard dick in reverse. They take turns doing the fucking. Orlando holds Blake's waist and thrusts hard into the boy's hole, then when Orlando needs a break, Blake takes over bouncing on Orlando's delicious dick. The Hungarian screws this horny Brit with his legs in the air until Blake creams his smooth belly, then he lies back stroking his dick and unloads in Blake's mouth.