You'd think that a video on a site called Monster Cock would have guys sporting giant dicks, wouldn't you? Monster Cock is one of the flavours over on Staxus and they're introducing us to a couple of new Czech guys named Ryan Olsen and Sven Laarson. The problem is that neither guy has any more than 7 inches, not exactly monsters. But they're both cute, so I decide to check out their first video anyway and I'm glad I did.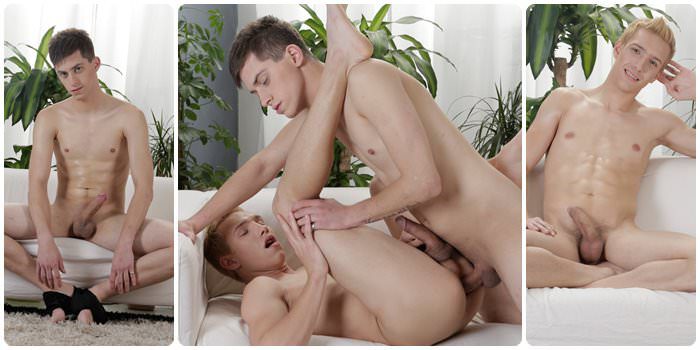 Sven is the blond and he enters the living room and throws a pile of underwear on the sofa. Ryan is the brunette and he follows. The guys strip out of their clothes and start trying on the underwear to see which ones they like best. And after some horsing around, they settle in for some dick sucking and take turns stiffening each other's cocks in their mouths, getting them swollen and stiff. Then they crawl into a 69 position and gulp each other's hard-ons.
In spite of the lack of big dicks, these guys redeem themselves. They both take turns bottoming, which is always hot for me; but they fuck in such an array of positions that you can't help but enjoy watching them. But my absolute favourite had Ryan lying on the sofa with his furry legs over his head and his butt hole pointing toward the ceiling, Sven stands over him but faces the other direction and plunge fucks him backwards – too hot for words. These two Czech lads also make up for their average-sized equipment by shooting two huge, magnificent loads of cum. Ryan blasts all the way up to his neck while Sven is drilling him, then the blond geysers off a fountain of spunk all over his buddy.