We all remember the first time we had sex with a guy. For some of us it wasn't that long ago, for others, it's a distant memory, but we all remember. Helix Studios asked blond cutie Nicholas Reed about his first sexual experience. "My first time was with my friend and we had been friends for a long time," Nicholas starts. "And he used to come over to my house after every soccer practice. I had no idea that he was even the slightest gay, but I definitely thought he was attractive."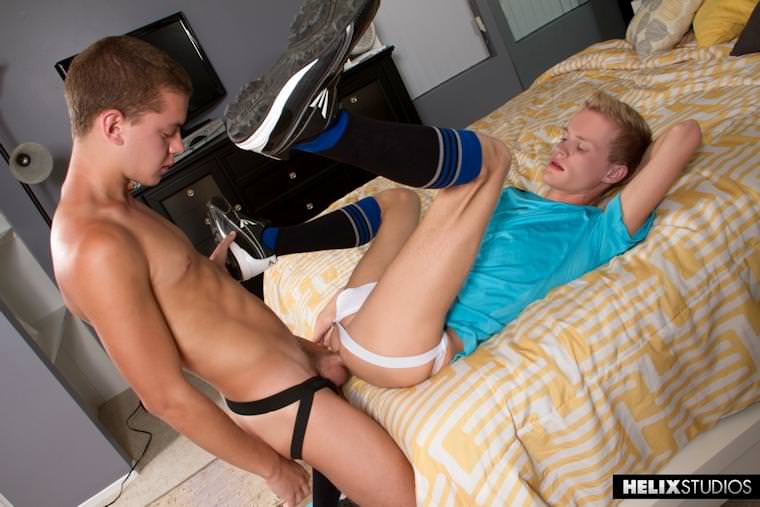 Nicholas re-enacts his first time with adorably hot twink Ian Levine. Sitting on the bed talking about the game, Ian starts groping Nicholas' bulge in his loose-fitting shorts. As Nicholas said, he had been fantasizing about his buddy for a long time but didn't dare make the first move; he wasn't about to say "no." They start kissing and rubbing each other's stiffening crotches. The shorts come of and Ian pulls Nicholas' rock-hard dick out of his jockstrap and swallows it. It felt so good and Nicholas didn't want it to stop, but this horny blond twink wants to see how it feels having a hard-on sliding down his throat.
Ian pushes Nicholas on his back, puts his buddy's legs on his shoulders, and slides his hard meat slowly inside the boy's virgin hole. Nicholas gasps, but Ian is gentle and waits for Nicholas' ass to relax. When he feels Nicholas' hole release its tight grip on his erection, Ian starts pumping. Ian knows this is Nicholas' first sexual experience and he wants Nicholas to do it all, so after fucking his buddy's ass for a few minutes, Ian tells the blond to lie back on the bed. Ian mounts him and sits on his stiff prick. Nicholas has a pretty big dick so Ian finds it a challenging at first, but once his butt hole stretches, he rides Nicholas' fuck pole hard and deeply until his team mate creams his hole.