Blond Twink Gets Fucked Over a School Desk
Connor Levi is one of my favourite sweethearts over at Staxus, this blond boy is so cute. He's stuck in study hall with Justin Conway, sitting one behind the other at their desks and reading. Justin shocks Connor when he pulls a couple of beers out of his bag and Justin surprises his study-hall buddy when he offers to suck his dick.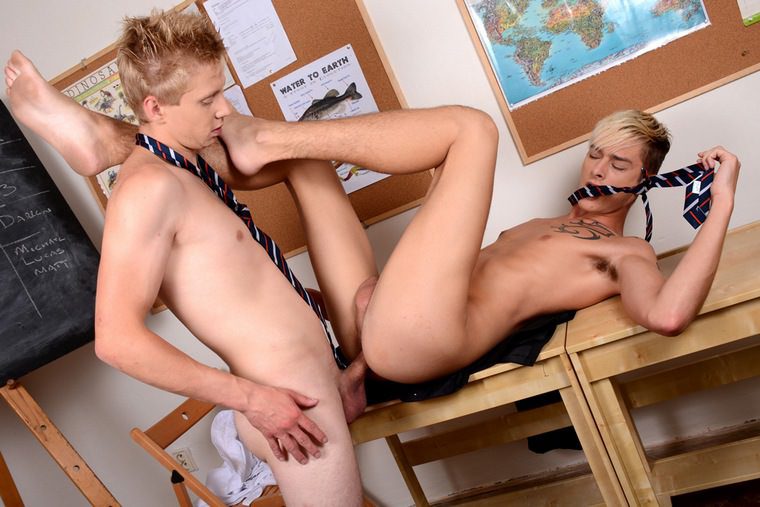 Connor pulls his long uncut cock out of his trousers and Justin kneels in his school uniform and starts swallowing. Connor gets brazen and strips off his shirt – how the hell is he going to explain that if the teacher returns to check on them? Connor has a fantastic cock and even when rock hard his foreskin completely covers his cock head, we don't see his delicious cap until he peels back his hood.
When Connor offers to blow Justin, the blond Brit gets even more brazen than his buddy and strips completely naked. Then Justin bends over a desk, hikes his foot up on a chair, and Connor slides his beautiful dick inside and starts pumping Justin's hole. Justin takes over and rides Connor's hard-on while the blond boy is sitting in a chair, then Justin lies back across a desk for some more ass drilling. And every once in a while Connor slaps Justin's ass.
Justin's hardly making a sound, but Connor moans and whimpers incessantly as he's pumping the bottom, you can tell that he's really enjoying Justin's hole. And Connor gets the desk rocking so hard that the beer bottle sitting on the desk behind them falls to the floor with a clunk. I loved watching Connor shooting his load; when the blond boy cums his foreskin completely covers his cock, so we only see his thick jizz pumping out of his piss slit and all over Justin's lips. Then he pushes his hood forward and squeezes out the last blob of spunk. So fucking hot!