Blond Twink Dylan Hall Gets Fucked
I've blogged a couple of times in the past few weeks about Jacob Dixon and I've got to say that I'm in love and lust with this boy's big dick. In this new scene from Helix Studios, blond twink Dylan Hall tries his best to swallow as much of this thing as he can, but he never gets more than two thirds of way down before he starts grimacing.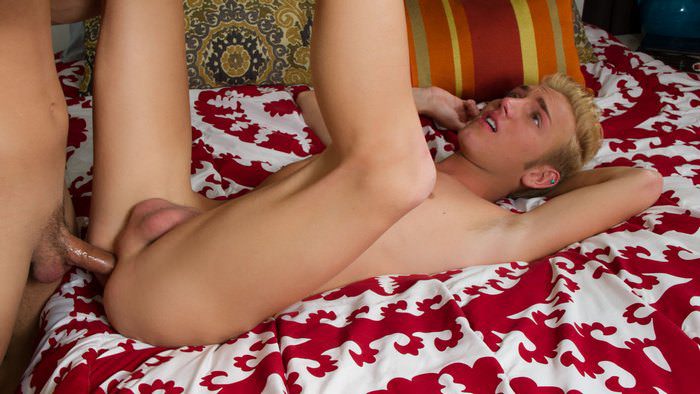 It's funny how you can see a guy's cock from a number of different ankles, then suddenly you see it in a different way and you get a whole new appreciation for how big it is. While Dylan is down on his knees sucking Jacob's hard-on, the underneath filming gives us a good view. But when Jacob says, "Come here" and pulls Dylan to his feet, we see his 9.5 inches sticking straight out from his body at a 90 degree angle. I literally said, "Holy fuck!" Then thought, "He's not going to try and stick that in Dylan's tiny ass, is he?"
Helix Studios has been doing a lot of filming with mirrors over their last few episodes and I'm really enjoying it. Dylan leans against a mirror while Jacob inches his big hard-on into his tight, little ass. The camera moves back and forth between Dylan's contorted face in the mirror and between his legs so we can see what all the fuss is about. Jacob never gets up to full ramming speed – Dylan Halls just can't seem to handle it – but instead he dicks the boy's hole with slow and steady strokes until the blond finally unloads all over his belly. And if you like Jacob Dixon as much as I'm enjoying him, he's got five scenes over at Helix Studios, and he even gets fucked in one of them.