From priests, monks, and boy scouts to school boys, Staxus sure has been getting creative with their uniform series of videos. Blond Jaxon Radoc attends a private school and he's sitting on the edge of the tub in the bathroom with the door closed and sneaking a smoke. It's too cold to smoke outside, but really, he's not supposed to be smoking at all.
Orlando White yanks open the bathroom door and discovers his classmate sucking on his cigarette. "Please don't tell the principal," Jaxon begs. The dark-haired lad doesn't say anything, he simply starts unbuckling his belt, and Jaxon moves to his knees. Hmmm … seems like the boys at this school regularly trade sexual favours for one thing or another. Jaxon swallows Orlando's dick, and it's a nice cock – big with loose foreskin that easily slides up and down his shaft when Jaxon strokes it in his fist.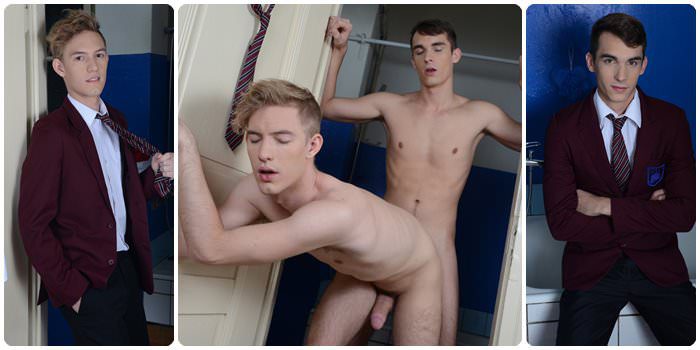 After swapping blowjobs, Jaxon bends over and Orlando slides his erection in the blond's ass. Orlando is a hard fucker – he's here for a good time, not a long time – and he really jack hammers Jaxon's ass. They're fucking in the doorway, which I find funny because Jaxon had the door closed to hide his smoking, but here these two schoolboys are fucking in clear view of anyone happening by the room. They couldn't have hidden their fucking anyway, Orlando is pounding Jaxon so hard that the boy's making a lot of noise.
Orlando sits on the bathtub and Jaxon blows his cum load all over the floor while riding his classmate's thick dick. Jaxon barely finishes cumming and Orlando pushes him off his meat and onto his knees, and within seconds he's blowing his wad all over Jaxon's face. Jaxon's secret is safe for now, but the problem with blackmailers is that they always know where to go for more.