Darius Ferdynand is one of the most popular guys in gay porn right now, he's filmed with many of the big studios. He's a good-looking stud, usually featured clean shaven, but sometimes wearing a bit of chin scruff like he is in this new Staxus video. He's a blond guy who hails from Hungary, and like a lot of his countrymen, he's swinging a big meaty cock between his legs.
Billy Rubens is a very cute Latvian boy – we don't see many Latvian guys in gay porn – and he's lying back on his bed with Darius and they're watching a rugby game. But the game is boring so Darius asks, "What else can we do?" Billy clicks off the television and says, "I have an idea," and rolls over and plants a kiss on his sexy buddy. From the moment this scene opens, I'm hooked, I can't wait to see these hot guys stripping off their shirts and shorts, and they don't disappoint me.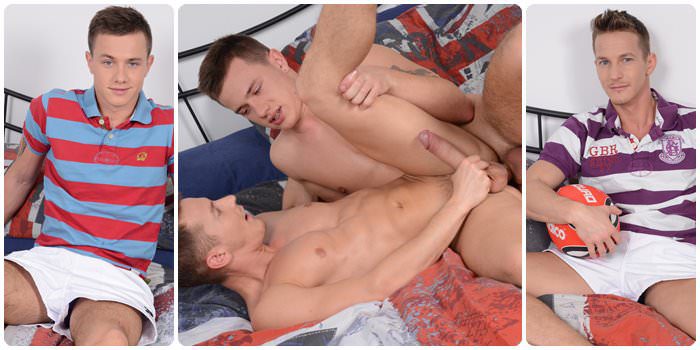 Darius has a whopping big cock: it's long, thick, and uncut, and his shaft gets super fat just underneath his cap. Billy spends a long time worshipping his buddy's dick, but has trouble swallowing it balls deep. Billy's cock is smaller and easier for Darius to deep throat, but Billy's balls are quite a bit bigger than Darius'. After swapping blowjobs, Billy sits back with his hairy legs pointing at the camera and Darius mounts his buddy's hard-on in reverse. Billy lets Darius ride his bone for a long while before rolling the Hungarian over on his side for some fast ass pumping. Finally, Darius ends up on his back with his legs hooked around Billy's arms and the Latvian pumps his hole with deep and quick strokes.
And Billy shows us that the bigger cock doesn't always shoot the biggest load of cum. He fucks Darius furiously until the blond drains a modest load of spunk on his abs. Then Billy pulls out and blasts a huge river of cum right up the middle of Darius' torso. The first vigorously stream of jizz lands right between the stud's pecs with the rest of Billy's cum load covering the bottom's belly and pubes. What a shooter! He's a must see.