I love first-time videos and Helix Studios has had a couple of them recently. In this one Andy Taylor is trying to write his college entrance essay and having a damned hard time of it. Jamie Sanders is already in college, but Jamie's words of encouragement aren't helping. So Andy ends up asking Jamie about college life, you know, if he's having a lot of fun and fucking a lot of guys.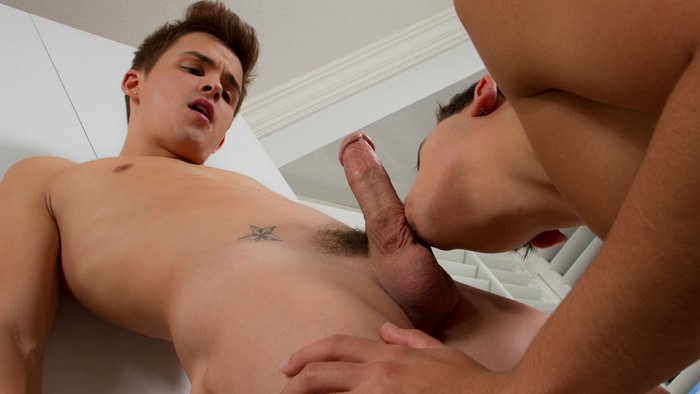 Judging by the look on Jamie's face and his stammering, Andy figures out that his buddy is still a virgin. He's been waiting for the right guy. One thing leads to another and Andy offers to be that guy if Jamie will write his college essay. And the thing that I really liked about this video is that Helix Studios injects realism into the scene. Down on his knees and staring at Andy's dick Jamie says, "What do I do?" Andy gives a little laugh: "Put it in your mouth and suck." Nothing worst than a scene trying to sell us on a guy's first time and he immediately deep throats a bone like it's nothing. But Jamie's tentativeness and uncertainly really adds to this session.
And when it comes time to fuck Jamie's ass, Andy tells him to lie on his side and try to relax. And once Jamie's ass gets used to having a dick in it, Andy does one of my favourite things: he pushes Jamie's long legs right over his head, then he squats over his college buddy's ass and plunge fucks him. I love this position, it gives us a good view of a Andy's hard-on sliding into Jamie's hole, but also gives us the best possible view of Andy's bulging bubble butt doing all the work. And Jamie's final lesson in this gay sex tutorial is how to gobble up a guy's cum load. Does Jamie get an A? You'll have to judge for yourself, but he does get a mouthful of spunk, so that's got to count for bonus marks, doesn't it?