The wardrobe department over at Staxus has not only picked up a bunch of boy scout uniforms, but some cleric clothing, too, – priestly collars and hooded monk habits – and they're putting them to good use exploring what really happens when horny priests and monks grow tired of reading scripture.
Troy Stevenson and Will Sims are sitting beside the fireplace, listening to priest Felix Webster doing a scripture reading. But monks Troy and Will have other things on their minds and start fondling the young priest. They strip off his clothes and shower his smooth body with kisses and licks. And if you haven't seen Felix before, this Czech lad is packing one of the biggest nut sacks I've ever seen. It's huge like a small orange and swollen round. He's got a fat dick, too, and these two horny monks take turns gulping it down their hungry throats.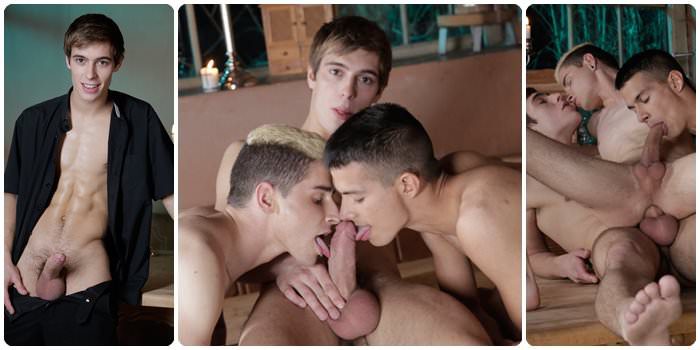 Troy lies across the wooden table and while Will throat fucks him, Felix slips in behind the lad and stuffs his meaty bare cock inside. The underneath filming is hot with the priest's fat dick plunging in and out of Troy's tight hole, and those giant nuts sway heavily in rhythm. Troy and Will sit back on the table and Troy rides both of their hard-ons.
Troy sucks off Will, but I'm really anxious to see if those big priestly nuts pump out an equally massive load. Unfortunately, Troy opens his mouth and Felix unloads down his throat, so I only catch glimpses of his jizz squirting across Troy's tongue. And it ends with Troy jacking off and Felix licks the boy's balls, which are half the size of his own. Turns out that Troy is the scene stealer blasting the biggest load of boy cream of the three all over his smooth belly.