Bareback Outdoor Twink Fucking
This new video from Staxus features four of my favourite things: Czech boys, outdoor sex, a really hot rimming scene, and plunge fucking. Daniel Prince and David Hanson are out for some exercise, walking in the woods and they come across a deserted cottage in a clearing. Daniel and David never turn down an opportunity for some horny outdoor sucking and fucking, and this quiet spot can't be passed up.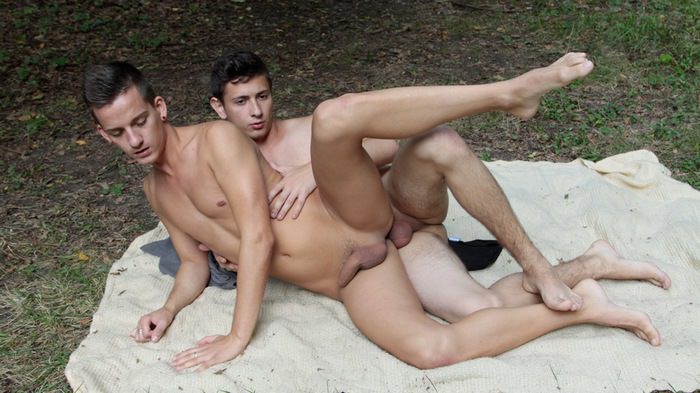 After sucking his buddy's cock, David lies back on the blanket and hoists his legs far over his head so that his butt hole is pointing straight up at the sky. And Daniel leans down and slathers his tongue all over this boy's rosebud. I love rimming and Daniel tongue fucks David's hole with the camera getting in close. And Daniel's rimjob gets this horny Czech bottom begging for something bigger and harder.
Daniel squats over his friend's ass and rubs his cock head back and forth across his wet, slippery fuck hole, driving David even more crazy than Daniel's tongue did. But Daniel finds it hard getting his dick inside, David is so fucking tight. But Daniel keeps pushing until his plump cap slips in, then he forces his hard-on in inch by inch. Plunge fucking is one of my favourite positions and watching Daniel squatting over his buddy and opening up his hole is really hot. After David's ass becomes more accommodating, the two Czech boys fuck until they have to empty their balls. And they end this outdoor romp in a perfect way – two sticky and creamy cum facials.