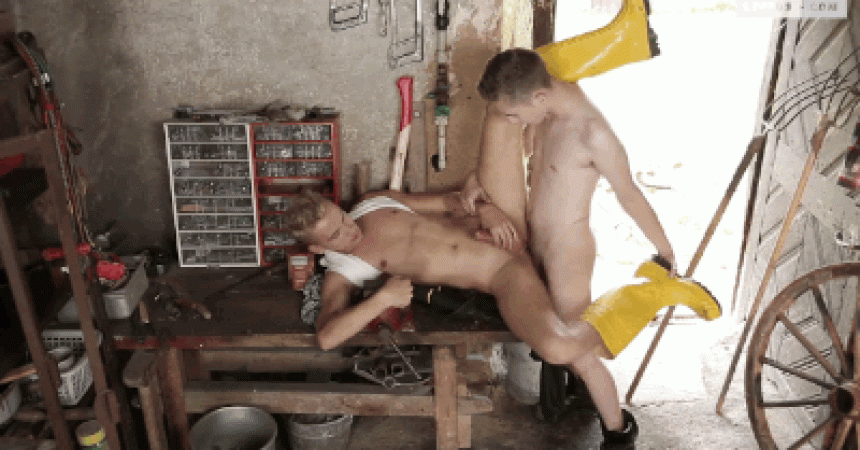 Bareback Flip-Fucking Twinks Ray & Clyde
Horny twinks Ray Mannix and Clyde Walton hook up in their country toolshed for this smoking hot bareback flip-fucking session!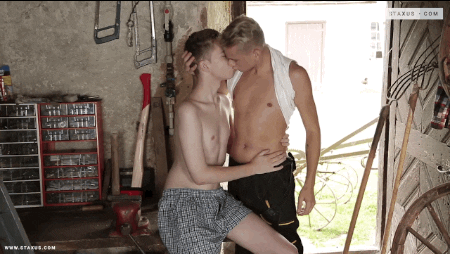 These two cute and sexy twinks know the perfect use for their country toolshed – and that's a secluded spot to get it on together. They ditch the tools an get their hands all over each other instead, kissing and groping until their hard uncut cocks are out and ready for some cock sucking action. Ray quickly drops to his knees and wraps his lips around Clyde's big stiff boner, and after a good while sucking on it he then bends the twink over a nearby stool and spreads his legs wide open. Ray then has great access to Clyde's tight little puck, and he gets his tongue into it deep and rims that juicy pink hole before stretching it open with his finger.
Ray then rams his raw cock right into Clyde's tight ass and fucks it hard, pounding the twink cutie from behind as he's bent over the worktop. We get some great close-up shots of Ray's bare boner pumping in and out of Clyde's butt here! After a change in position, the horny twinks then flip, and Ray lays back on the worktop (looking adorable in his bright yellow wellies I might add!) while Clyde slides his raw cock into the blond boy's ass. Clyde pounds Ray's ass so hard that the worktop shakes as he thrusts into the twink, and it must really hit the spot for Ray too as he gets a huge load fucked right out of him.
After a little kissing, Clyde is then ready to dump his load too – all over Ray's pretty little face. Hot!