Skyler Daniels really caught my eye. He's so adorably cute and I haven't seen him in action before, so I'm pretty revved up knowing that in a few minutes he's going to be fucking Ayden Troy. But in the interview portion of this Broke Straight Boys video, Skyler really wins my heart with his southern twang: "Cause I ain't no for real cowboy," he says with a smile.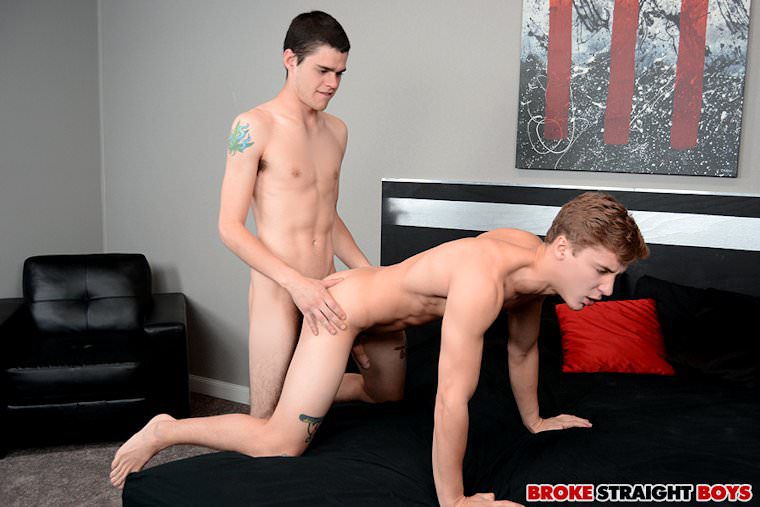 I missed Skyler and Ayden's first video, and now finding out that Skyler bottomed in that one, well, I've got to go find it. And this is going to be a bit of a revenge fuck because Ayden went to town on the brunette's butt hole. So it's going to be fun to watch.
Even though Skyler is topping, he's out of his clothes in about two seconds flat and down on his knees sucking dick. After trading blowjobs, Ayden assumes the position – doggy style on the edge of the bed – and Skyler doesn't waste any time, driving his boner balls deep in one giant push. "Oh, my God. Fuck!" bellows Ayden. But his cries are pointless, Skyler doesn't give his fuck buddy any time to get used to his dick, he fucks the boy's butt hole open with hard, deep thrusts.
Ayden eventually gets used to it and while on his back getting drilled some more, he moans, "Oh, yeah. Fuck me." Ayden jacks his cock with one hand while the other is pushing on Skyler's chest, trying to prevent him from going too deep. But Skyler ain't taking the hint. Ayden knows one way to get him to stop fucking so hard, so he blows a big wad of cum all over himself. Skyler pulls out and add his juicy shower to Ayden's cum-soaked belly. After, Ayden says about his ass, "It hurts. A lot!" and Skyler tells him "You'll be OK, Ayden. You'll be OK."