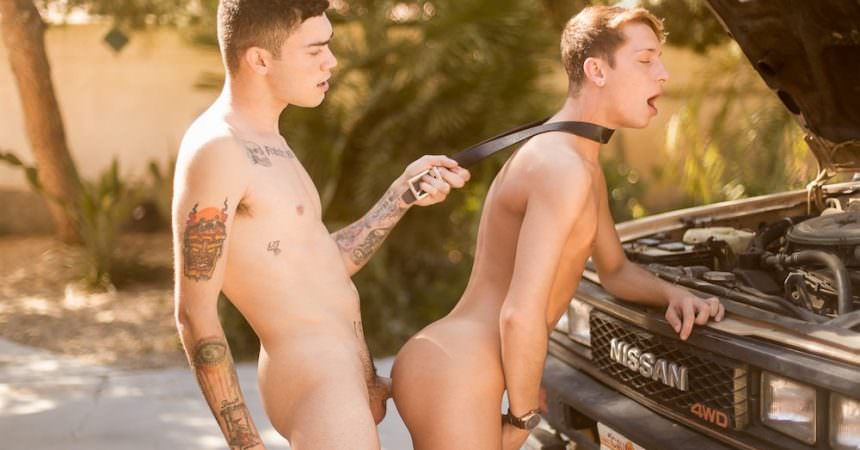 Ashtin Bates & Jacob Hansen Bareback
Ashtin is working on his truck when Jacob comes along and tries to help. Ashtin doesn't want help so when Jacob won't stop interfering he pulls off the boy's belt and begins spanking him with it. The spanking turns both boys on and quickly turns into a passionate kiss. Before long the boys are both shirtless, and Ashtin then drops to his knees and pulls down Jacob's jeans. He takes Jacob's boner between his lips and gives it a thorough servicing. Jacob then returns the blowjob and gives Ashtin's dick a good working over.
Ashtin turns Jacob around and bends him over the open hood of his truck. He slides his raw dick into the twink and proceeds to pound his ass hard from behind. The tattooed twink uses Jacob's belt to choke-hold him as he drills his hole, and we get some great close-up views from below. They move to the back of the truck where Jacob lays on his back for another pounding form Ashtin. He cums over himself right before Ashtin pulls out and spurts a big thick creampie onto Jacob's hole. Ashtin quickly pushes his load into Jacob's hole with his dick and fuck it into him with a few thrusts. He then licks up his load from Jacob's ass and snowball kisses him with it.
Dick Detective's verdict: The creampie, cum in ass, cum licking, and cum-kissing moment is smoking hot!