This new video from Staxus should come with one of those opening warnings: "Do not try this at home." As Jaden Fox and Daniel Prince enter the room, Jaden is complaining about a sore leg and Daniel tells him to lie down on a pad laid out on the floor. Daniel then lights a couple of candles and sets the glass holders down on the pad, which is covered in blankets and pillows. When these two get thrashing around the bed, I fully expect these candles to get knocked over and set these two twinks ablaze. I don't know why they even needed the candles in the first place, the room is lit up like a Times Square video billboard. Porn producers and their silly ideas.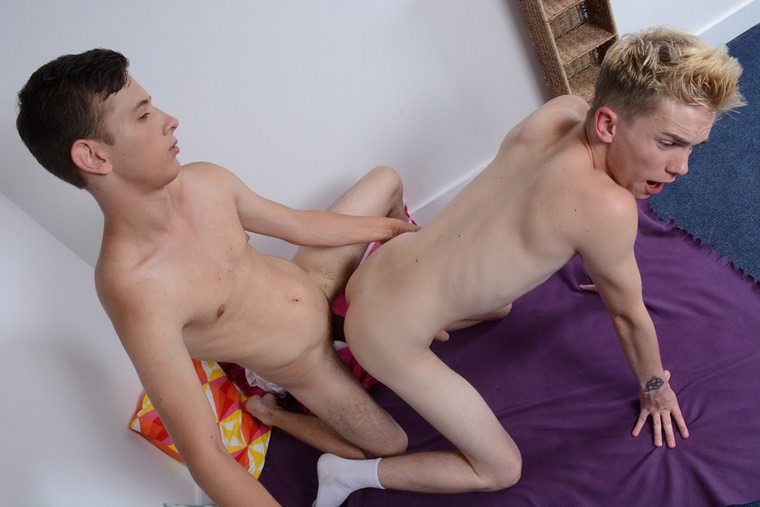 Jaden does get his massage, both back and front, then the cocks come out and this rub down turns dirty. I have to say that Jaden has quite a lovely cock: it's big with lots of loose foreskin that Daniel slides up and down the blond boy's shaft. And when Jaden gets Daniel's dick stiffening up it's long and skinny and a bright pink nob pops out of his foreskin.
After swapping blowjobs, Jaden gets down on all fours and Daniel shoves his hard-on inside. The boy fuck in several positions, but it's the last one that I loved the best. Daniel sits back on a chair and Jaden mounts him and sits reverse on his dick. Jaden's big, meaty, uncut and veiny cock flops around as he bounces on Daniel's erection. When Daniel signals that he's getting close, Jaden sits between his legs and offers his face.
Daniel starts shooting and most of his cum load just falls onto the seat below him, totally missing Jaden's face, and I think, "Well geez, that was a waste of time." But suddenly, after dropping about four big gobs of jizz, Daniel's dick springs to a second lfe and squirts three vigorous blasts that sail across Jaden's face coating his cheek, nose, and lips. Poor Jaden thought he was getting away with a clean face, but in the end, he got spunked good.