I've really been enjoying the VELO series at Helix Studios. It's a multi-part video that gives us a dirty look at all the goings on at a bicycle courier company. When we last left this horny crew, Jacob Dixon was getting bailed out by the dispatcher Ryker Madison. But Jacob wormed his way out of trouble by promising to be good and fucking the boss's ass.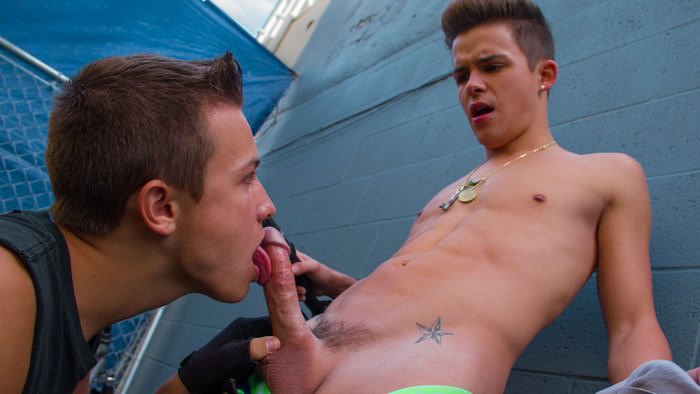 Andy Taylor has just been hired and he's off on his first delivery. He's lost, but spots Jacob leaning against a warehouse wall smoking a cigarette – so much for being good. After getting directions, Andy just stands there staring at Jacob and mentions that he's got a few minutes to kill. "Let me show you something," Jacob says leading the boy down a back alley.
Andy leans against the wall and gets his dick sucked. I always love watch Jacob fucking ass because he's so leisurely about it and he gives head exactly the same way with slow swallows and letting every inch of Andy's hard-on slide slowly down his throat. The two boys line up their dicks one on top of the other and Andy strokes them together. Then Jacob pushes his co-worker against the wall and gives him an ass full of his niner. I can't wait to see what these horny couriers get up to next. But I already know that Jacob Dixon isn't turning himself around and gets into even more trouble in part four of VELO, which you can see over at Helix Studios.