When I last saw Alexander Syden, the horny young Brit was getting his ass stuffed by two huge Dominican cocks at the same time. I loved the look of surprise on his face when the second dick slid into his ass, he really didn't think it was possible. Today he's back in a new scene from Staxus with Jordan Downing.
Lying on the bed in a t-shirt and underwear, Jordan is trying to take a nap. Alexander comes in and lies beside him on the bed and Jordan's huge underwear bulge is just too tempting, so Alexander starts rubbing it. Then he pulls out Jordan's fat dick and starts sucking. I have to say that Alexander isn't a great cocksucker, certainly not as good as Xander Hollis from Pajama Party. Alexander is a one-speed sucker – fast and furious – and he just needs more experience giving oral sex to figure out that there are myriad ways of making a guy's dick feel good, but his mouth does get Jordan in the mood for fucking.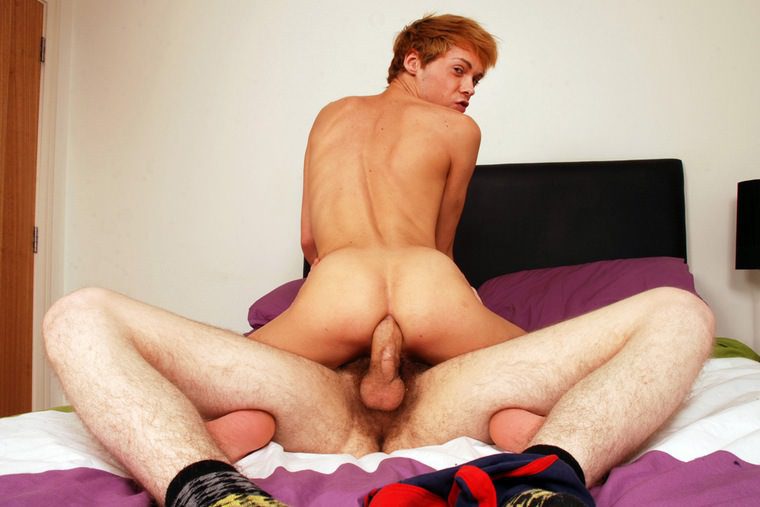 While sucking Alexander's skinny dick, Jordan pulls off his underwear revealing his furry butt cheeks and legs and a very hairy bush. What a turn-on! Jordan fingers Alexander's butt hole and when the boy is dying for a drilling, he mounts Jordan and sits on his dick. It takes some doing to get the boy's fat dick inside his hole, but once it's in Jordan starts thrusting up into the bottom's ass very hard.
Jordan puts Alexander down on all fours, then on his back, and Jordan is just like Alexander, he's a one-speed fucker … fast and furious. But Alexander's had two huge black cocks up his ass at the same time, so he can take one fat cock jack hammering his hole. He shoots all over his smooth belly, but Jordan keeps pounding him hard until he's close to shooting, then with Jordan teasing the boy's meat with his lips, Jordan spunks all over Alexander's tongue piercing. Alexander licks up the few drops that missed his mouth and cleans up Jordan's cummy cock, then the two cuddle up to finish that nap.