Alex Silvers is brand new to gay porn and he's going his first scene with Hard Brit Lads. He's a cute boy with bleached-blond hair and a pair of the plump kissable lips. He's paired up in his first video with Kayden Gray, who is back for his third appearance on the site.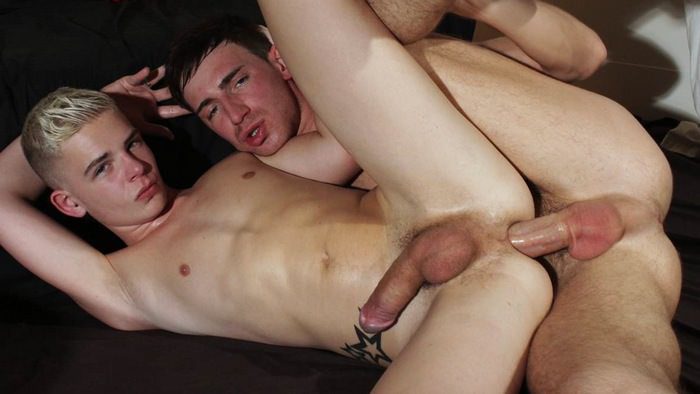 Kayden has a big cock, it's 9 inches long and thick, and it's a challenge for a lot of cocksuckers. It proves to be just a little too much for Alex who can't even swallow more than half of it. Keep practising, Alex, it gets easier. He spends a lot of time wrapping his beautiful lips around Kayden's fat cock head. Alex is no slouch in the dick department, he's packing an eight incher, but Kayden has no problem deep throating this boy's meat.
Alex does much better taking this huge bone up his ass. And I have to say that I really enjoyed the fucking here. Alex climbs on top of Kayden and spears his ass on all nine of those inches. Kayden grabs two fists full of butt cheek and spreads them wide so we can get really turned on watching his fat dicks sliding all the way in and out. Alex ends up on his back for the finale and squirts a big load of cum on his smooth belly while Kayden continues pumping his ass. And with his top work done, Kayden beats himself off and unloads a generous load of spunk across Alex's cum-soaked chest and belly.