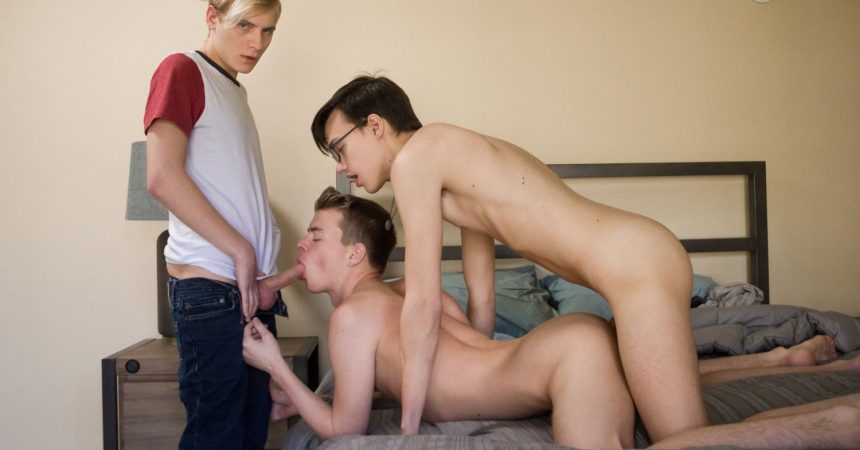 Adam, Dustin, & Ethan Bareback
Horny twinks Dustin and Ethan come home and walk right past blond boy Adam Hunt, heading straight into the bedroom. There the boys make-out on the bed and strip off until Ethan's big boner is between Dustin's lips. Dustin eagerly sucks that thick cock for a while, then pulls out his own big boner for Ethan to blow in return. Dustin eats out Ethan's ass next, and proceeds to slide his raw cock deep inside of it. As Dustin slams his cock into Ethan doggy style, blond boy Adam suddenly turns up at the bedroom door.
Adam is invited inside and the blond boy quickly pulls out his hard dick and shoves it onto Ethan's mouth. Ethan gets spit-roasted for a good while before it's all change. Adam sits on Ethan's bare cock and rides it balls deep, while Dustin shoves his dick into Ethan's most and face-fucks him. The threesome changes once again as Dustin shoves his dick into Adam's ass while Adam sucks on Ethan's cock. Adam cums all over himself while Dustin pounds his hole, and Ethan then blows a big load all over Adam's face. Dustin pulls out and shoots an equally big load all over Adam before the three boys collapse into a threeway kiss.
Dick Detective's score: 5/5