I love watching a boy who knows how to suck dick. James Dixon has a meaty cock. It's big with thick veins stringing through it's fleshy length and he's got collars of loose foreskin. In this new Eurocreme video, Aaron swallows every beautiful inch of this thing and I loved watching him. And just to make sure we know how good of a cocksucker he is, he lies back and lets Dixon stab his throat with deep strokes, and still, the boy doesn't gag. He stops occasionally, gasping for air and curling Dixon's foreskin over the head of his dick and admiring this top boy's beautiful meat.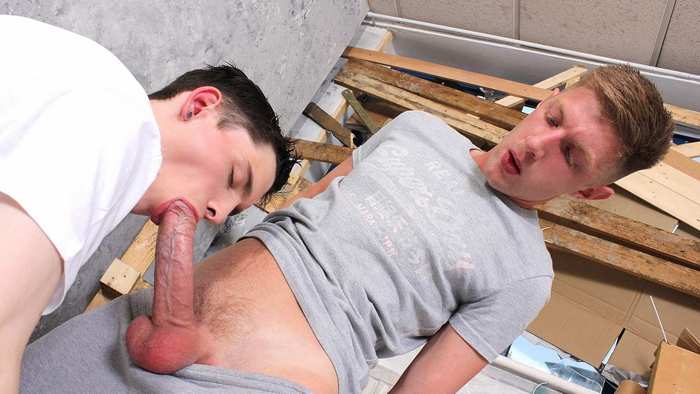 When Aaron is lying face down on the mattress and James is eating his ass, I wonder: How is this boy going to take this large piece of uncut dick? His ass is so tiny. But when Dixon lines his fatty against the boy's hole and starts pushing, his butt swallows the whole thing – every meaty inch and so easily. And Aurora is in heaven. With James burying his hard-on in Aaron's hole, the boy's ass keeps rising to meet his buddy's thrusting, he doesn't want to miss out on a single inch. This boy loves getting screwed almost as much as he gets off sucking bone.
Aaron flips over and James stabs his rosebud until the skinny bottom spunks all over himself. With his top duties completed and his boy's hole completely satisfied, Dixon pulls out his meat and unloads his nuts all over Aaron's cum-soaked belly. And this bottom is very pleased with himself.