I got really super horny watching Jason Valencia sucking JR Adams cock, and it's not because of the reasons you might think. In this video from Bareback Twinks, JR is lying on the floor and Jason is between his legs slurping on the boy's dick. And what got me so revved up is that Jason has his septum pierced and he's wearing a large-gauge, horseshoe ring through his nose and his ears are sporting big spacers. I really got off on the look of him and couldn't take my eyes off that nose ring, although I did sneak the odd peek at JR's big dick disappearing in Jason's mouth.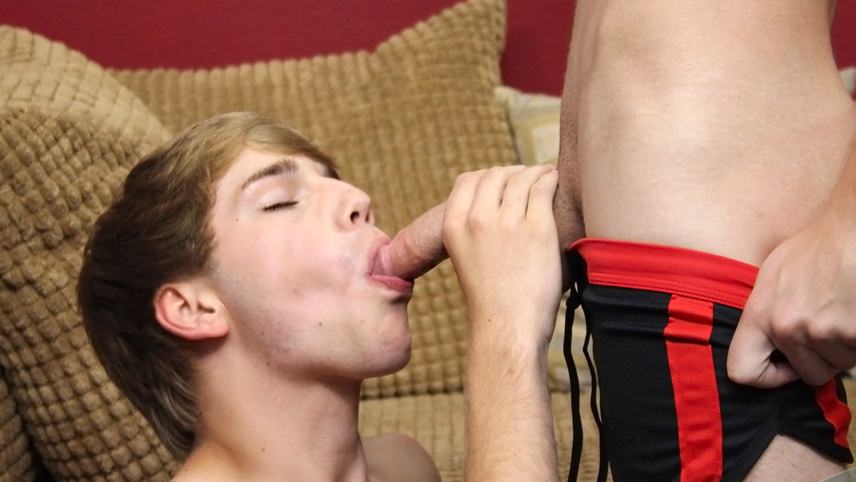 Jason bends JR over the edge of the sofa and fucks his ass and I really enjoyed watching his hot little butt thrusting in and out of JR's hole. But the scene that really got me excited has Jason lying back on the couch. He flexes his arms behind his head while JR rides his hard-on in reverse. Jason lets JR do all the work and gets off watching his bare cock sliding in and out of JR's hungry hole. It was so horny watching this top boy doing nothing but just lying there and enjoying having a boy riding his meat.
When Jason puts JR down on the floor and plunge fucks him, I'm done. If you've been spending any time here at Dylan's Daily Dose, you'll know how much I love watching a top squatting over his bottom's ass. I couldn't have lasted another second if I tried, but seeing Jason splashing his cum load all over the boy's freshly-dicked hole really got my dick thinking about another round.