When this scene from Staxus opens, Czech lad Troy Stevenson is playing with the largest dildo I've ever seen. It's gargantuan with a shaft three times as thick as a man's arm and the head is almost has big as Troy's blond head. All Troy can do is lick it.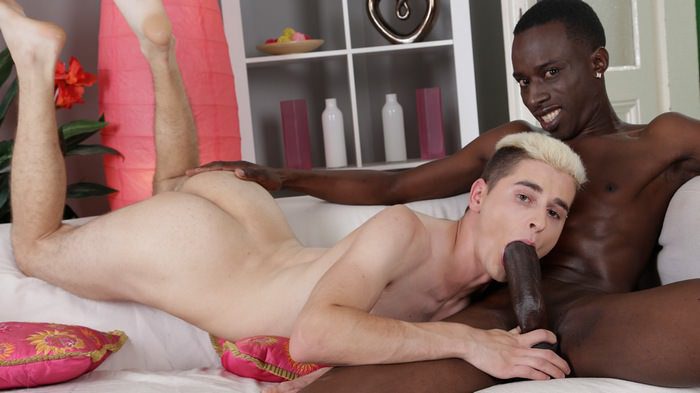 Then the scene flips and this horny cocksucker is licking Alejandro Marbena's 11-inch cock. Alejandro is Dominican and his dick isn't only big, but it's fat and it glistens velvety black. Troy sucks this monster meat and Alexjandro teasingly swinging it back and forth slapping the Czech lad's pretty face.
Alejandro gives Troy's mouth a break and sucks the boy's cock, but I don't care and fast forward through it, I don't even want to see this black top eating out Troy's smooth butt hole – I'm only want to see if this bottom can take this giant black cock up his ass. And can he! Holy shit! There's no warm up, Alejandro lines up his meat against Troy's spit-lubed hole and rams it all the way in and starts thrusting his strong body. With his legs over his head, Troy takes it groaning loudly. I'd say this bottom did some hole stretching exercises before he started this scene because Alejandro is not only huge, but he's not an easy fuck. He likes it hard and he likes it fast.
In the finale, Alejandro is holding Troy by the hips and plunging the bottom hard on his huge dick and Troy splashes a massive load of jizz up onto his belly. Then he kneels to suck off this super-sized Dominican cock and gets a mouthful of cum. And wow! I'm sufficiently impressed – Troy is one very horny and capable bottom. He's a candidate for a double penetration scene if I ever saw one, and I'm sure Staxus has figured that one out, too.